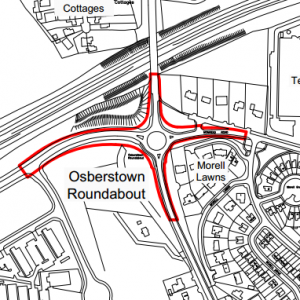 As we are all too well aware, roadwork delays in the Naas area are adding to traffic woes. This has become particularly acute as the busy season commences and adverse weather makes driving conditions more difficult for motorists. There are three major roadworks projects underway: the Sallins Rd. roundabout widening, Main St. bus stop upgrades, and Kilcullen Rd. roadworks. All of these together are contributing adversely to the movement of traffic around Naas town and Sallins village. While it is welcome to see these projects being carried out, I would have hoped that they would have been carried out in a timely and efficient manner. Instead, we've had to put up with the opposite.
Therefore I've stressed  with stakeholders involved the URGENT need for prompt completion of the roadworks to relieve this traffic chaos, especially now in the run up to Christmas. The Sallins Rd. roundabout and Kilcullen Rd. upgrade in particular are simply taking far too long to complete. It is unacceptable. One would have thought that in this day we could deliver projects like these quickly and efficiently, but it's worse they're getting.
While it is imperative we carry out these roadworks, it is equally important that they are done in a timely fashion with minimum disruption to traffic around the town. These roadworks are taking months. Many residents have raised the issue with me about the ongoing roadworks on the Sallins Rd. and how it's causing havoc daily. I will be doing all I can at council level to expedite the completion of these works, especially now that bad weather and the busy Christmas season is upon us. It is critical that Naas town gets its Main Street back to normal for Christmas.